Celebrate Your Baby's Milestones with a Photo Session
What is a Milestone Session?
A Milestone Session is a 30 minute portrait session that celebrates your baby's important milestones such as sitting, crawling, walking or first birthday.
What is the best milestone to capture?
All milestones of a baby's development are precious. Every parent wants these milestones captured in photographs as the moments are fleeting and pass quickly from one to the next.
Here are somethings to consider when having professional photos taken of your baby.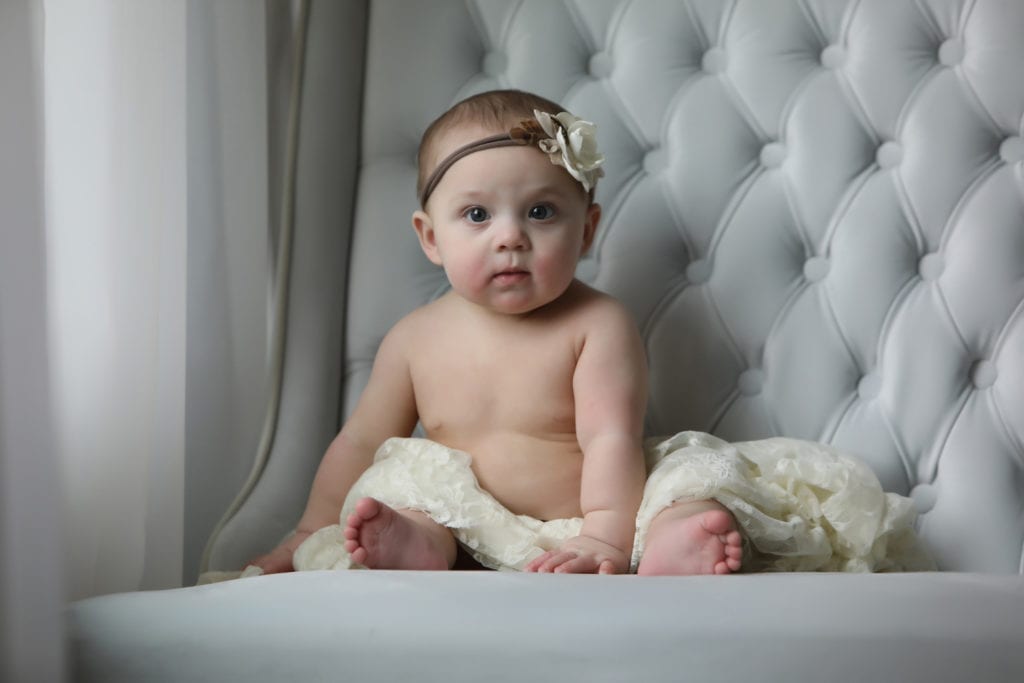 A sitting session is the easiest photo session of all the milestone sessions. This photo session is booked typically around 6 months when babies start to sit up on their own.
Babies are often photographed in their natural state, to capture the adorable baby rolls and chubby cheeks. Because the baby is sitting, it makes it easy to hide any areas that we don't want to see 😉 But don't worry as outfits can also be worn for these sessions too.
Their personalities are starting to shine will lots of great smiles and giggles. Sitting sessions are the easiest to manage as the baby is not moving around a lot on set. They can also be entertained easily with less effort and photograph really well.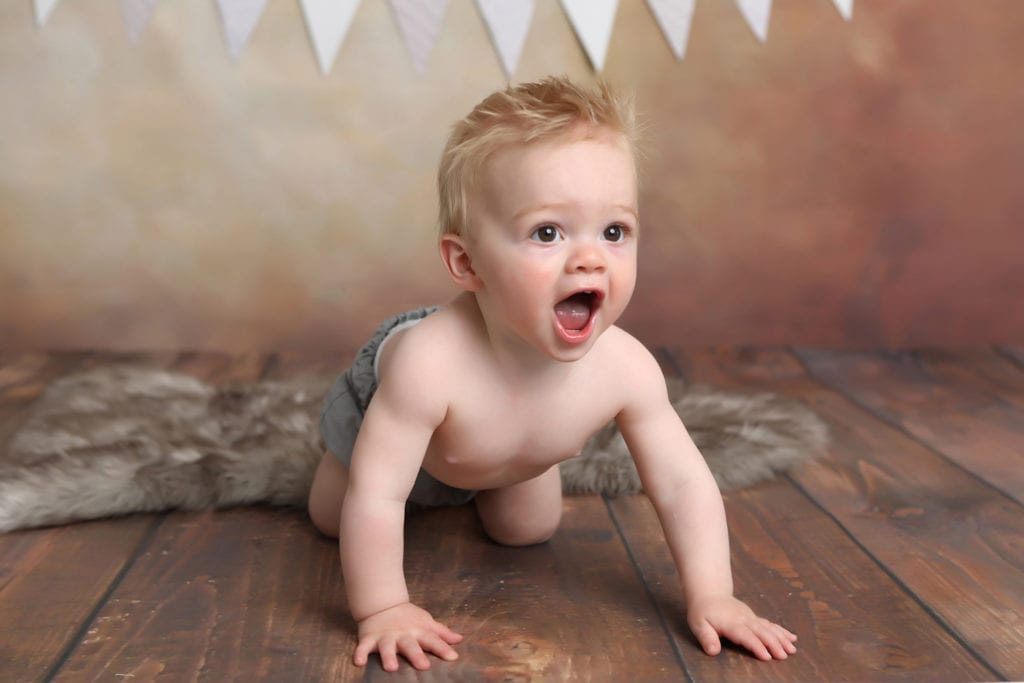 Crawling is an exciting time and you can get a lot of great images as babies are beginning to develop their movement. This is a wonderful time to get some fun action shots. But because they are unsteady with their movements, they cannot move quickly around the set like a running toddler.
Parents do need to understand that these photo sessions require a lot of help from mom or dad to continually place baby in the right spot. It is also the parents job to keep them entertained for lots of great smiles while the camera shutter is clicking.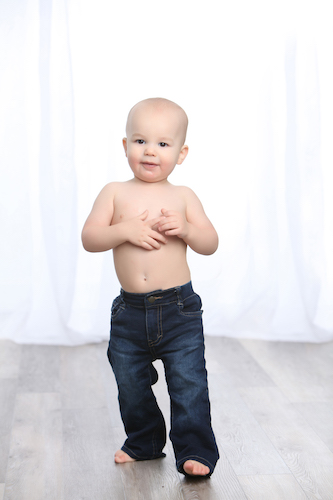 Walking photo sessions are a lot of fun but can be the most challenging of all the milestone sessions as babies are on the go continuously and rarely stop! They require more energy from the parents to keep them focused and entertained.
Because the studio has lots of interesting equipment and props they have not seen before, young toddlers like to wander and explore. However, the photographer needs them to stay on set and looking at the camera to capture their innocent enthusiasm. This restriction can easily turn a happy child's temperament.
And, just like any typical parenting duties, toddlers also need to be protected from knocking down studio lights or touching the hot studio fireplace. It is important that parents keep a keen eye to the dangers in the studio space.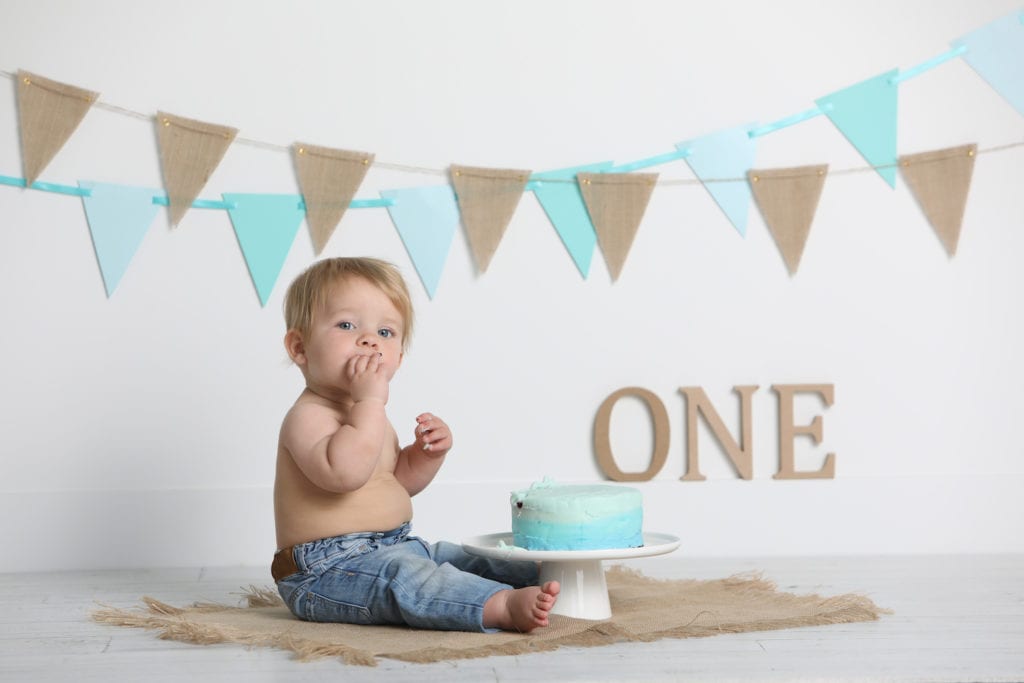 A 1st Birthday only comes once to start a long run of happy birthdays in the following years as the child grows. 1st Birthday photo shoots are a great way to celebrate this important milestone.
At one year of age, babies have a little bit more understanding of what is expected of them. They are also a bit more capable of following simple instructions. Parents are still responsible for their safety in the studio and will be required to keep the child smiling in front of the camera.
A 1st Birthday session is a great time to incorporate fun props that can capture the young child's personality. Parents are responsible for specific theme props which can be brought from home to add a personal touch. It is recommended that props be kept simple and minimal. Aviva Studios also does have a limited supply of available props.
Often, at Aviva Studios, we do Cake Smash sessions which are photo shoots celebrating a 1st Birthday complete with a birthday cake for the child to eat on set. It is the one time where a child is allowed to make a fun mess while the camera captures the moment.
To book a Cake Smash session, parents will need to meet with the photographer for a consultation to discuss ideas and themes. Cakes can be ordered to custom suit your theme.
The birthday cakes are an added cost which will depend on the cake size.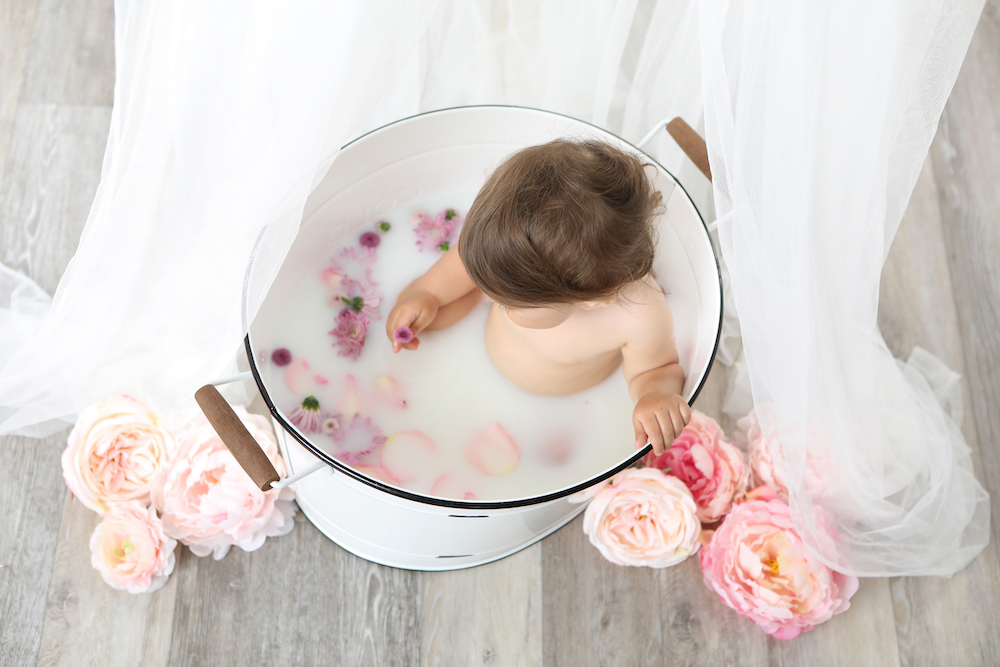 This Milk Bath Session was a fun addition after a Cake Smash Session to wash off the sticky mess.
Do you have a vision for a unique photo session? We would love to work with you!! But do keep in mind the extra cost for added props and creative time involved to pull a specialty session together.
When deciding on outfits for all Milestone Sessions, remember that 'less is more'.  Please, no logos, fonts or graphics on clothing. Different outfit changes are permitted.
for your first Basic Milestone Session from any of the above sessions with baby only. You will receive 10 of your favourite digital images.
for Specialty Milestone Sessions that require extra props or creative time. Includes 20 of your favourite digital images.
for any additional Milestone Sessions which includes 15 of your favourite digital images.
Prints of all sizes can be purchased for an additional cost. A follow-up in-person photo viewing consultation can be booked to discuss print, framing options and costs.