Behind the Scenes of a Business Headshot Photo Shoot
So what happens at a photo shoot for a business headshot? There is no need to feel intimidated. Aviva Studios has you covered. All you need is to look your best, bring your best smile and Liz will do the rest.
If you have been following our blog, you will see that we have posted some excellent resources to get your prepped for you business headshot photo shoot. You will definitely want to check them out…
But now, we thought we would give you a behind-the-scenes peek into one of our headshot photo shoots at Aviva Studios.
When you arrive, be sure to send Liz a text. The photo studio is in the backyard of a residence, so you will then be directed to the side of the garage where Liz will meet you there.
After friendly introductions, Liz will discuss with you the look and feel needed for your headshot photograph. If you have booked a session with multiple outfit changes, she will go through your picks and help you choose what backdrop would be the best. Then, the studio will be adjusted accordingly and the lights will be set.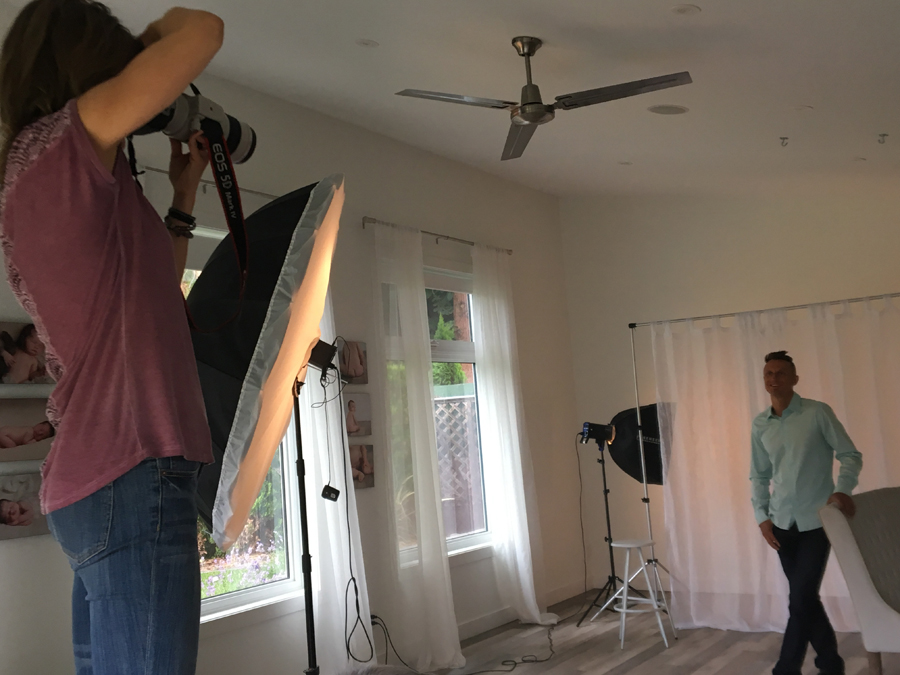 There is a small change area to help you primp before your big moment. Even if you have booked a session with only one outfit, it is a good idea to bring multiple ties, necklaces or jackets to give you the most variety in your poses. After you are ready, you will step onto the set and off you go.
Liz relies on her 25 years experience to give clear directions for your poses. She is also great at trying to get you to relax. Many people feel weird and uncomfortable by themselves in front of a camera, so know you are not alone. Just take a deep breath, relax the tension and smile. It really is that simple! Before you know it, you have gone through your outfits and poses. 
After your photo shoot an online gallery will be uploaded with all the photos taken during the session. A link will be sent to you for you to choose the perfect image. Remember the link will have an expiry date, so be sure to email Liz with your choose images before the link expires.
The digital files will then be sent directly to you and you are all set!