Top 10 Photo Gifts for Christmas – Part 1
Have you noticed, in this techy day and age, how difficult it is to manage all the digital media we create on a daily basis? With all the latest and greatest phones, we are able to take a plethora of photos with a simple click. 
But where do all these photos end up? Some get posted to social media sites, but for the most part, the majority sit on our phones collecting digital dust. Don't you think it is about time to take all that media and do something with it so it can be appreciated and admired by others?
Why not take advantage of the upcoming Christmas gift-giving season and make photo gifts for your loved ones? Not only does this add a personal touch to your gifts but it also helps clear the clutter on your phone or computer as you sift through your photos to find the keep-worthy photos. 
And if you make this a yearly tradition, your digital media files will always stay in check. Start planning now, so that you can get your photos sorted and your gifts ordered in time.
Here are some awesome photo gift ideas to get those creative juices flowing.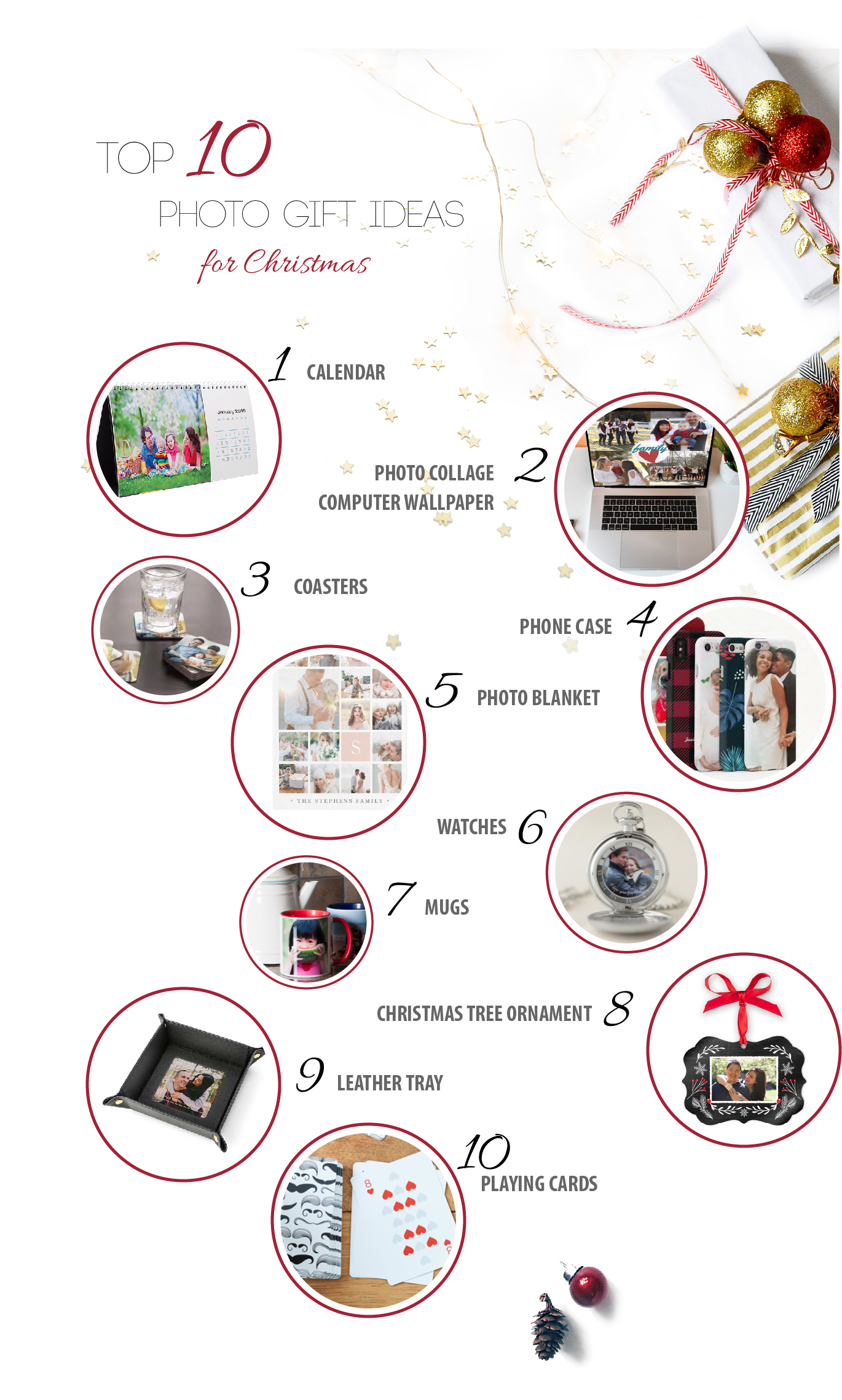 Even though we live in a digital age, an old fashioned, paper calendar always makes a great gift that the recipient will appreciate throughout the year. As the months change, no matter who you are, it is always fun to flip the page of a calendar to reveal a new photo of your loved one that will make you smile. Calendars can easily be printed at Staples for a reasonable cost.
Photo Collage Computer Wallpaper
If you are unable to give a gift in person, why not send a group of photo collages you have compiled for the recipient to use as wallpaper on their computer screens or phones? Messages can be incorporated in a collage as a reminder of your relationship and sentiments. A free and easy way to create photo collages is www.canva.com .
Instead of hanging photos on your wall, why not print photo coasters that can be placed on coffee tables or side tables to protect furniture from liquid ring stains? Photo coasters can be printed through www.vistaprint.ca .
Have someone on your Christmas list who is addicted to their phone? (aren't we all 🙂 ) You can have your photos printed on phone cases from www.vistaprint.ca .
There is nothing more sentimental than giving a personalized photo blanket. When you are not there to give hugs in person, your recipient can wrap themselves in a cosy picture of you. Photo blankets can be printed at www.zazzle.ca .
Zazzle also has printed watches which you can customize with a personalized photo. They also print on various clocks as well. I cannot speak to the quality of the time piece or it's mechanics but what a cool gift idea.
A simple Christmas gift idea is to print your photos on a mug. Add some coffee, filters and tea bags with a novelty spoon in a cellophane bag with bow and you have a nice little personalized gift to give. Photo mugs can be printed at London Drugs.
As a nice little stocking stuffer, how about printing your photos on a Christmas tree ornament? Give a tree ornament every year and your tree will become a 3D album full of memories. Tree ornaments can be printed at www.snapfish.com . They have a nice little selection of various styles to choose from.
How about a tray to collect your pocket change or keys with a personalized photo? Snapfish.com also has printable leather trays that would make a unique gift.
Another cute stocking stuffer idea is to have your photos printed on a deck of playing cards. These can be printed easily from Walmart.
With printing technology advancing all the time, the possibilities to use your digital photos are broadening by the year. All it takes is a digital file and you are set with so many great holiday gift giving opportunities.
But what happens if you are wanting more than just an iphone selfie as your image?
Wanting to up the anti of your gift giving? Stay tuned next week to see how Aviva Studios can help.