The Aviva Project Graduate Mini Sessions
Can you believe your little one has grown up and is ready to leave the nest? It's a time of so many mixed emotions. You are so proud and, at the same time, are so nervous for their future and super sad to let them go. The season is full of celebrations as they get ready to bridge the next step. These moments will never happen again and you will want to capture every minute.
At Aviva Studios, we will be hosting Mini Photo Sessions for your Graduate in their amazing prom attire! The event will be held at our photo studio and is one day only. $25 of the sitting fee will go towards Habitat for Humanity.
Be sure to mark June 9th on your calendar and book your session with Liz by calling 250-317-4395 or emailing [email protected] .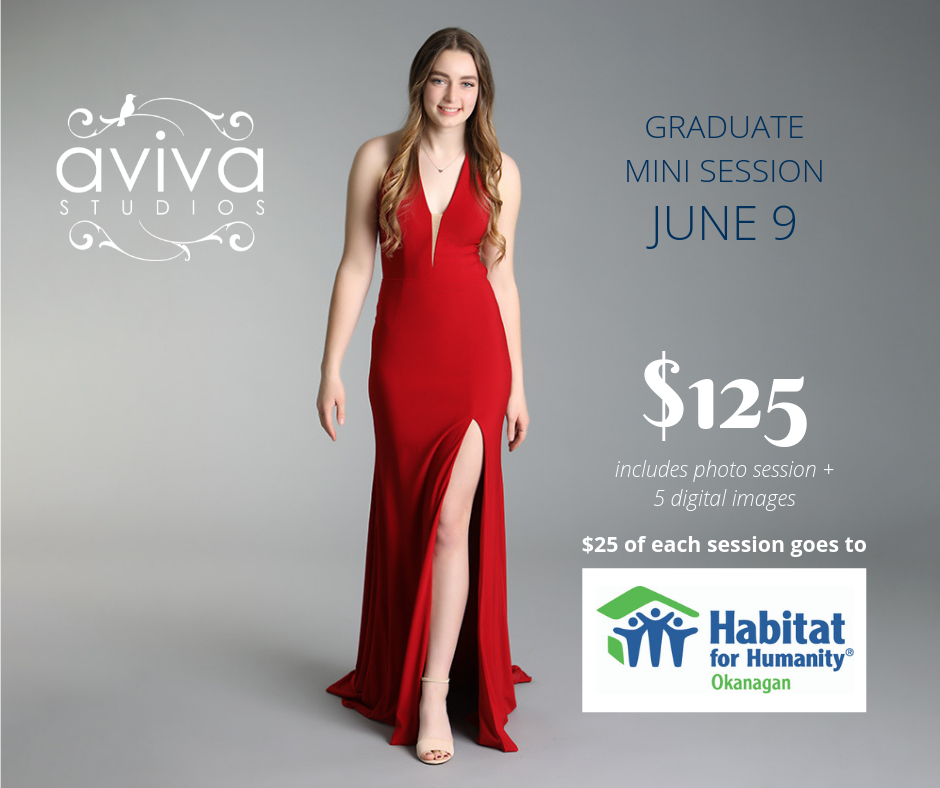 Here are some more details you will need to know in order to participate…
only 10 spaces available

with each event so book early to ensure your spot

all sessions are reserved with full payment

these Graduate Mini Sessions are for one grad only. Friends wishing to have photos taken  together must schedule their own individual sessions back-to-back.
sessions are $125 plus gst

(regular in-studio sessions are $399 which include 20 images)

5 of your favourite digital  images will be included with your Grad Mini session fee

additional digital images will be available for purchase

additional 5 images for $75

additional 10 images for $125

all additional images for $200

10% of all additional orders will be donated to our partner charity

the digital photo

files are medium resolution

and can be printed up to 8×10 in size

larger prints can be ordered

through us to ensure the best quality

an online gallery of images will be available for

viewing within 5 days and will only be available for 3 days after its upload
WHAT TO WEAR…
come to the studio in your amazing prom attire! be photoshoot ready with your hair and make-up done
if you have any questions about what to wear, please feel free to contact us anytime
WHERE TO GO…
the mini sessions will be held at our studio location

our studio address is

502 Sarsons Rd, Kelowna, BC

we ask that everyone text us at 250-317-4395 when you arrive

, as our studio is in the backyard of a residential home. At that time, you will be directed where to go once you arrive

all sessions are

20 minutes

in length

please arrive 10 minutes before your session time

late arrivals will result in shorter sessions
Watch out for our next Aviva Project!
BTW, we are always looking for charities to partner with. If you are a charity and would like to raise funds though The Aviva Project, please contact us directly. We would love to chat!